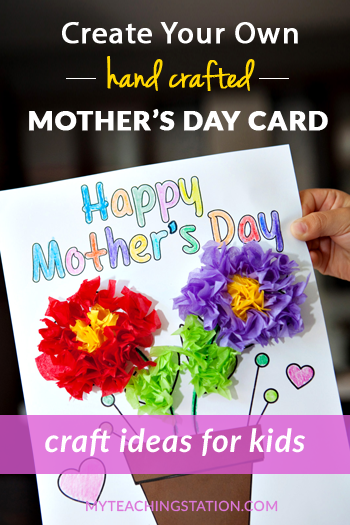 Give mom a handmade Mother's Day card with this easy, yet beautiful kids craft activity.
Supplies you will need:
4 tissue papers (red, purple, green and yellow).
1 sheet of brown paper.
Scissors.
Glue.
Crayons.
Download My Teaching Station Mother's Day Card Template.
Directions:
Gather your materials.

Cut out a shape of the pot from the brown paper.

Glue the brown paper onto the template.

Color the words "Happy Mother's Day", the hearts and pot decoration with your favorite colors.

Cut out several squares of each tissue paper.

Add glue to the areas in the template where you will glue the tissue paper.

Use the back of a crayon to wrap a piece of the tissue paper and attach it to the template.

Surprise mom with a beautiful handmade card made by her child.